Look Years Younger
In Minutes
Natural- No Paralyzing Toxins
Save time and money
25% off retail price and free shipping worldwide
If you can afford spending $250 on a weekly basis for oxygen infusion facial treatment in a clinic this product is NOT for you.

But if you care about your facial skin health and appearance NowMi PRO is your best choice.

With the NowMI PRO kit you get 6 weekly sonic oxygen infusion facial treatments at the comfort of your home. In every weekly oxygen infusion facial treatment you exfoliate your skin, oxygenate it from within, infuse pure vitamin C, vitamin E and hyaluronic acid deep inside for glowing healthy skin and protect it with powerful anti-oxidants.

Best of all: Treatment is once a week, takes only 5 minutes and cost a fraction of the cost of the professional oxygeneo treatment in a SPA
Brush and Glow Oxygenation Device at Home
Oxygenation Isn't Magic- It's Skincare Science
NowMi Sonic Oxygenation device is a sleek beauty device that delivers an amazing facial Cleansing and the power of Sonic Facial Skin Oxygenation in just a few minutes. Revive your face and get your skin balanced, healthy and vibrant with a simple, effective, clinically proven, made for home, Sonic Facial Oxygenation device.

Oxygenation really is as great as beauticians claim. It gives you an amazing glow and super soft skin.
Real Facial Skin Oxygenation Can Only Come from Within - Oxygenating through the skin's surface is biologically impossible. Rubbing air bubbles on your face don't work.
NowMi sonic oxygenation technology comes from high-end professional beauty clinics. The NowMi treatment is the latest invention of Dr. Zion Azar the inventor of the professional OxyGeneo treatment found in thousands of clinics worldwide.

For real oxygenation results you need to go below the surface
Our NowMi Sonic Oxygenation treatment utilizes something called the Bohr Effect, a known biological process. It's a process of using CO2, which in turn stimulates a release of oxygen from your blood cells up to your skin's surface. This physiological response is what makes your facial skin REALLY level up.
WEEKLY SPA QUALITY SONIC TREATMENT
4-in-1 Super Facial

In a quick 5 minutes treatment once a week get complete SPA quality sonic facial oxygenation treatment. Simultaneously: Exfoliate, Infuse, Oxygenate and protect your facial skin.

Exfoliate: Remove dead skin cells and prepare your skin for infusion of vitamin C, E and hyaluronic acid.

Oxygenate your skin from within the natural way for glowing complexion. The NowMi PRO sonic device uses a scientifically proven effect called the "Bohr Effect" to increase the oxygen levels of the facial skin cells from "within the skin".

Infuse your face: Replenish your skin's supply of vitamin C, E and Hyaluronic Acid.


Protect your facial oxygenation treatment results with pure vitamin C and E against free radicals and pollution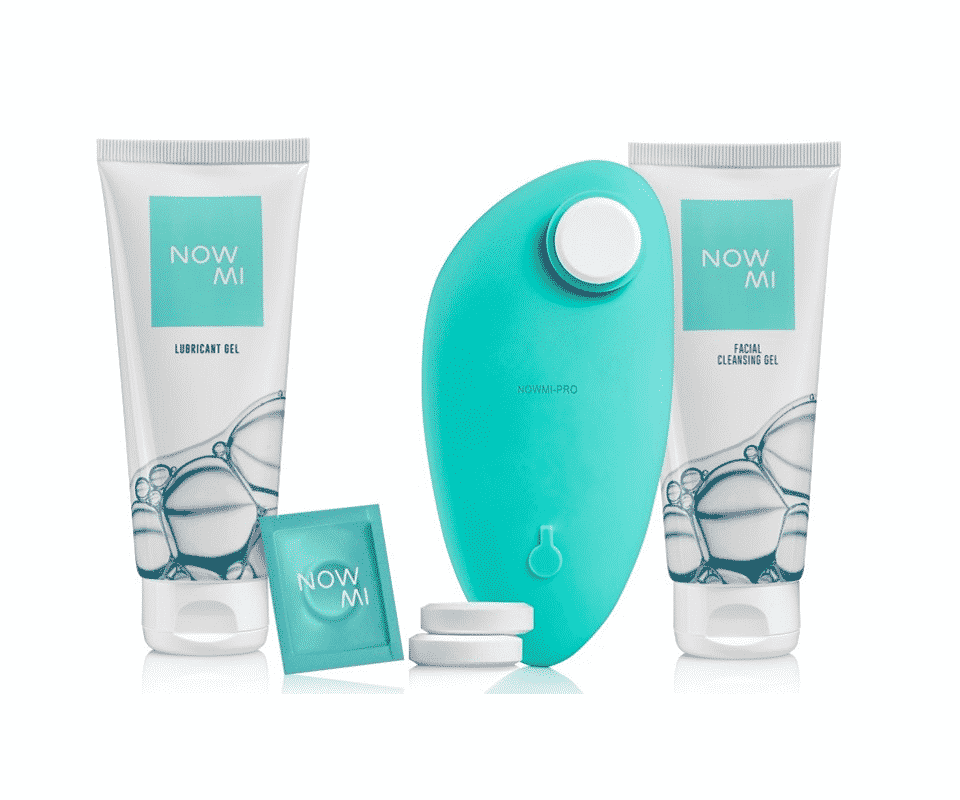 DAILY SONIC FACIAL CLEANSING
Healthy skin start with clean skin

The most fundamental factor in maintaining healthy skin is to ensure it is clean. Using the NowMi Pro Sonic Daily cleansing, you are able to deeply cleans the skin and rid it of makeup, dirt, oil and the like.

The NowMi Pro sonic device has a surface with silicone micro-fingers. The NowMi cleansing gel is applied onto the micro-fingers and you cleanse the facial skin with the power of sonic energy. The NowMi Pro sonic device emits 6,000 sonic pulses per minute which ensure that the cleansing gel penetrates and cleans all of facial skin including the deepest pores.

In addition to cleansing the skin, the NowMi cleansing gel includes vitamins E, B3, B5 and Dead Sea minerals. These essential vitamin and minerals reinvigorate and strengthen the skin as well as protect it from extrinsic factors.

BEFORE
Pigmented skin with visible acne scars
AFTER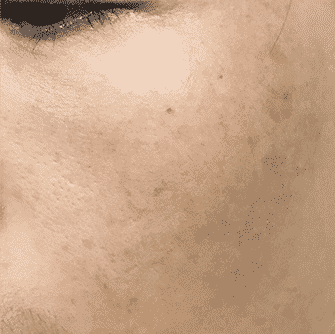 Even skin tone and repaired acne scars

NowMi-PRO CLINICALLY PROVEN RESULTS
A clinical test was conducted by a third party GLP certified laboratory at the end of 2018. The test was carried out on a panel of women aged 32.8±4.4 years. 80% with normal skin and 20% with sensitive skin.

Objective measurements of skin smoothness were performed using a Canfield's VISIA imaging system before starting the treatments (baseline), at the end of 3rd weekly treatment and at the end of 6th weekly treatment. Statistically significant results (p<0.05) obtained. After 3 weeks of treatments facial skin smoothness increased by 15.1% and after 6 weeks smoothness increased by 25.9%. No adverse effect were recorded and the safety and efficacy of the NowMi PRO treatment was proven.
WE TRIED NOWMI PRO AND HERE'S WHAT HAPPENED
Blogger Denise Mann from Beauty in the bag reviewed the NowMi PRO device

February 13, 2019

"My skin felt super clean and soft and I appreciate how easy and fun it is to use. Once you get the hang of it, you can do your whole face literally in minutes, pile on some SPF50 and you're out the door."

TEST DRIVING - NOWMI PRO COMPLETE FACIAL SOLUTION
Blogger Lisamarie from Beauty Crazed reviewed the NowMi Pro device.

Beauty Crazed , January 17, 2019

"It's very easy to use and after 6 weeks I can really see the results:my skin looks and feels smoother and fine lines are less evident;
my skin is more hydrated and plumper;
but what I really notice is the radiance, my skin glows - like really, really glows!"