So many celebrities swear by oxygen facials to help them keep their facial skin looking their best.  Madonna is one of the most famous proponents and is said to have an oxygen facial treatment before every concert. Jusin Timberlake, Miranda Kerr and Naomi Campbell have also made public that oxygen facials are part of their beauty routine.
So what is the deal behind oxygen facials?  The treatment was first launched by Intraceuticals, an Australian beauty product company in 2002.  Since then the treatment has been improved and upgraded and today it involves the delivery of pressurized oxygen at 90-95% concentration to the facial skin and the infusion of specialized serums.  The serums include skin revitalization agents such as hyaluronic acid (a natural 'filler' of the skin), select vitamins (primarily vitamins for skin such as A, C and E), anti-oxidants and peptides.  The oxygen is antibacterial and is used to optimize the delivery of the serums' ingredients into the facial skin.  The treatment is completely painless and takes about 30 minutes.  After the treatment the facial skin feels more hydrated and plump and there is a decrease in fine lines and wrinkles.
One of the issues with Oxygen facials is that there is no scientific proof that the oxygen penetrates the skin and enhances the delivery of the serum. New York board certified dermatologist Dr. Kally Papantoniou says: "There may not be any scientific proof yet…but the treatment is harmless and those who've had oxygen facials all swear by them."
The NowMi vitamin C oxygen facial treatment has taken the concept of skin oxygenation to the next level. Rather than externally oxygenating the skin, the NowMi vitamin C oxygen facial treatment stimulates the facial skin to oxygenate itself from within. During the facial treatment, the chemical reaction between the vitamin C effervescent tablet and the gel creates a CO2 rich environment. The body responds to this by sending oxygen rich blood cells to the facial treatment area. Once the area is rich in oxygen, the vitamin C, E and Hydraulic acid which are infused during the facial treatment, best penetrate the skin. As a result, the facial skin glow and looks and feels firmer and younger.
A wise man once said: "A picture is worth a 1,000 words". So instead of telling you how good the NowMi treatments are, we will show you real results from customers.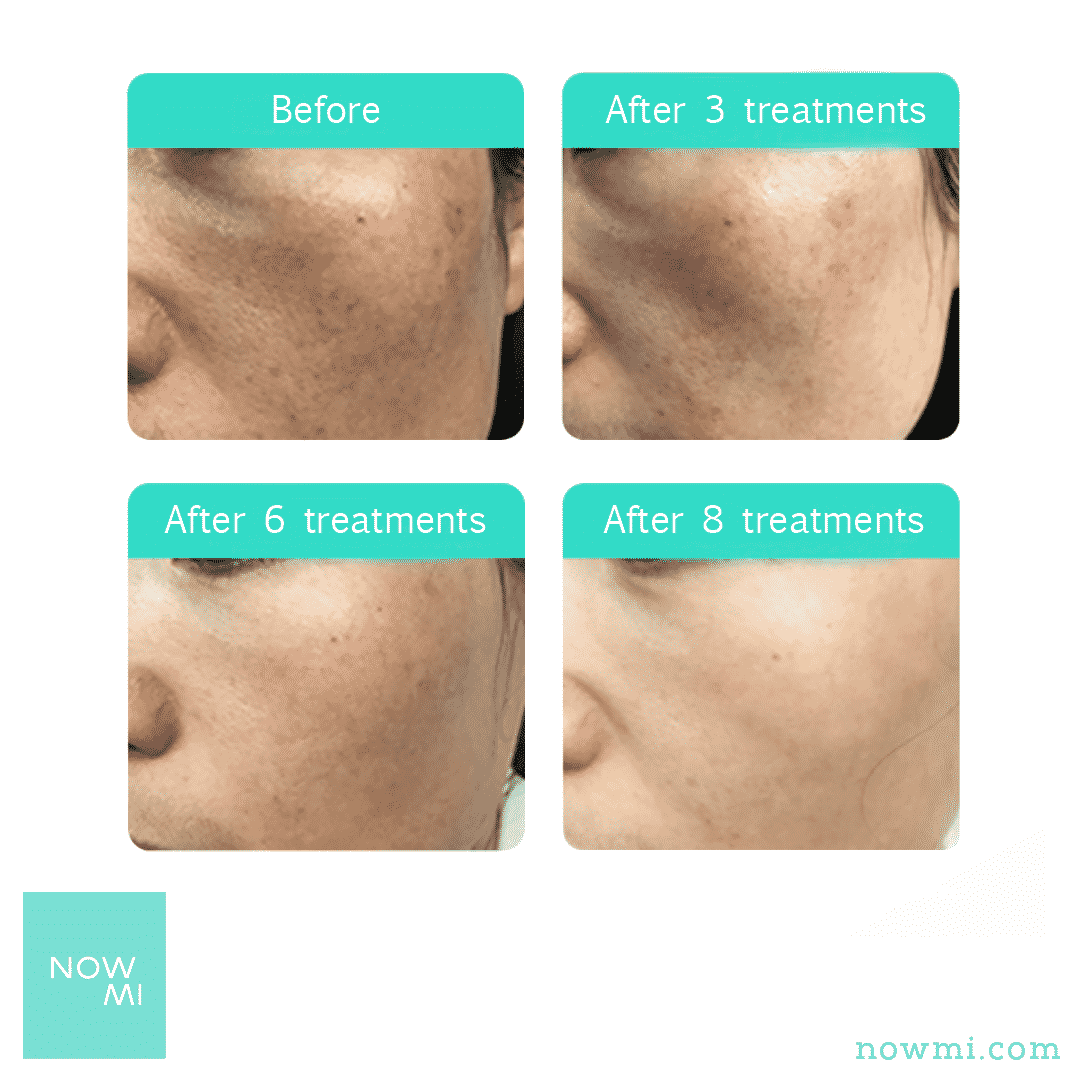 Another major advantage of the NowMi facial treatment is price.  While oxygen facial treatments costs between $200-300 a pop, the NowMi facial treatment costs a fraction of the price and can be carried out in the comfort of your home.
Recommended reading: Vitamin C oxygen facial : Clinical evidence
https://www.youtube.com/watch?v=GzlHAlg9570